The Schworak Site
|
Log In
|
Up One Level
Crystal Castles
Bentley Bear is trapped in the Crystal Castles! To get out, he will need to collect all of the gems located throughout the castle. The game is played with an isometric view of the multi platformed castle. When Bentley collects all of the gems on the current castle, he will move on to the next, more difficult castle. Wandering throughout the castles are a wide variety of dangerous creatures, which Bentley should avoid. From time to time, a magic hat will appear. If Bentley collects the hat, he will temporarily be invincible to the castles inhabitants.
Rating: E - Everyone
Released: 88
Players: 2Updated: 1990-01-01
Genre: Action
Publisher: Atari Games
boxart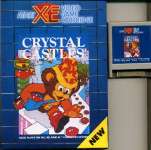 All content on this site is copyright ©2004-2020 and is not to be reproduced without prior permission.