The Schworak Site
|
Log In
|
Up One Level
Dig Dug
Dig Dug (ディグダグ Digu Dagu?) is an arcade game developed and published by Namco in Japan in 1982. It runs on Namco Galaga hardware, and was later published outside of Japan by Atari, Inc.. A popular game based on a simple concept, it was also released as a video game on many consoles.
Released: 83
Players: 2Updated: 2018-07-17
Genre: Action, Platform
Publisher: Coleco
boxart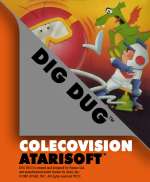 clearlogo

All content on this site is copyright ©2004-2020 and is not to be reproduced without prior permission.