The Schworak Site
|
Log In
|
Up One Level
Lady Bug
Lady Bug is an insect-themed maze chase arcade game produced by Universal Entertainment Corporation and released in 1981. Its gameplay is similar to Pac-Man, with the primary addition to the formula being gates that change the layout of the maze when used. The arcade original was relatively obscure, but the game found wider recognition and success as a launch title for the ColecoVision console. The goal of Lady Bug is to eat all "flowers", hearts and letters in the maze while avoiding other insects. The player is represented by a red, yellow, and green character resembling a ladybug while the enemy insects' appearance varies by level. The border of the maze acts as timer, with each circuit signaling the release of an enemy insect from the central area, up to (generally) a maximum of four. The speed of the circuit increases on stages 2 and 5.
Released: 92
Players: 2Updated: 2018-07-11
Publisher: Universal Interactive Inc.
banner
boxart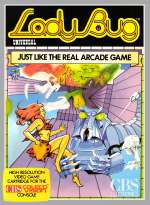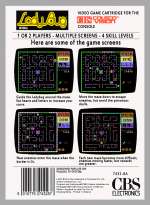 clearlogo

All content on this site is copyright ©2004-2020 and is not to be reproduced without prior permission.