The Schworak Site
|
Log In
|
Up One Level
NBA Basketball
The speed and excitement of real basketball court action! Life-like figures and authentic gameplay as two teams compete in 48 thrill-packed minutes. You and your opponent control the ball and mastermind the plays. Dribble down court, pass it off, go for a jump or set shot. You go for a rebound... try a fast break. You try to steal the ball... block the shot. Featuring simulated sound effects such as crowd cheers, buzzers, dribbling sounds, rim shot sounds, referee's whistle and much more!
Released: 80
Players: 2Updated: 2018-07-06
Genre: Sports
Publisher: Mattel Electronics
boxart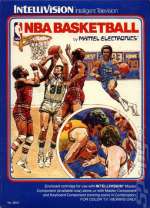 clearlogo

All content on this site is copyright ©2004-2021 and is not to be reproduced without prior permission.