The Schworak Site
|
Log In
|
Up One Level
Tropical Trouble
Clumsy Clarence is vacationing on a tropical island with his girlfriend Doris. Unfortunately, their vacation is interrupted when Doris is kidnapped by the bully Beach Bruiser. Now Clarence needs to rescue Doris by chasing the Beach Bruiser all over the island! The Beach Bruiser will be carrying Doris to the right and the screen scrolls to follow. You need guide Clarence and catch up to Doris. There are many obstacles on the screen which temporarily slow down your progress. Coconuts, ferns, clams, sand snakes, and lava will all appear in your way. If you get slowed down too much and hit the left side of the screen, you lose one of your lives. From time to time, Doris will drop a handkerchief; collect this and you become temporarily invincible! If you catch Doris, you then move on to the next section of the island; when each section of the island has been completed you then need to battle the Beach Bruiser on a bridge. If you're successful, the game will then repeat at a more difficult skill level.
Released: 82
Players: 1Updated: 2018-07-11
Genre: Platform
Publisher: Imagic
boxart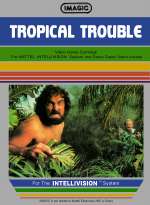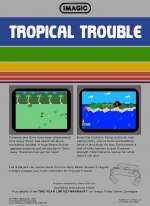 clearlogo
All content on this site is copyright ©2004-2021 and is not to be reproduced without prior permission.