The Schworak Site
|
Log In
|
Up One Level
Robocop 2
RoboCop is a beat 'em up/run-and-gun arcade game developed and published by Data East in 1988, based on the 1987 film of the same name.[6][7] It was sub-licensed to Data East by Ocean Software, who obtained the rights from Orion Pictures at the script stage.[1][8] Data East and Ocean Software subsequently adapted the arcade game for home computers. The game was a critical and commercial success. The arcade game was the highest-grossing arcade game of 1988 in Hong Kong, and reached number-two on Japan's monthly Game Machine arcade charts. On home computers, the game sold over 1 million copies worldwide, and it was especially successful in the United Kingdom where it was the best-selling home computer game of the 1980s.
Rating: E - Everyone
Released: 90
Players: 1Updated: 2021-05-22
Genre: Shooter
Publisher: Ocean Software Ltd.
boxart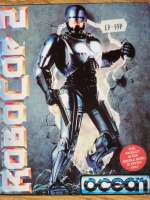 All content on this site is copyright ©2004-2021 and is not to be reproduced without prior permission.